Conquest of a Civilization by Open Invitation: One-People/One-World Egalitarian Idealism Leading to Epochal Demographic, Cultural, and Political Decline of Europe

Muslim Voters Change Europe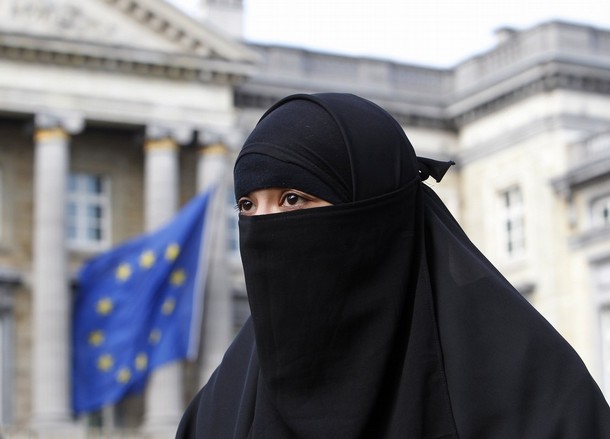 An analysis of the voting patterns that barrelled François Hollande to victory on May 6 as the first Socialist president of France since 1995 shows that this overthrow was due in large measure to Muslims, who voted for him in overwhelming numbers.

The French vote marks the first time that Muslims have determined the outcome of a presidential election in a major western European country; it is a preview of things to come.

As the politically active Muslim population in France continues to swell, and as most Muslims vote for Socialist and leftwing parties, conservative parties will find it increasingly difficult to win future elections in France.

According to a survey of 10,000 French voters conducted by the polling firm OpinionWay for the Paris-based newspaper Le Figaro, an extaordinary 93% of French Muslims voted for Hollande on May 6. By contrast, the poll shows that only 7% of French Muslims voted for the incumbent, Nicolas Sarkozy.

An estimated 2 million Muslims participated in the 2012 election, meaning that roughly 1.7 million Muslim votes went to Hollande rather than to Sarkozy. In the election as a whole, however, Hollande won over Sarkozy by only 1.1 million votes. This figure implies that Muslims cast the deciding votes that thrust Hollande into the Élysée Palace.

France, home to between five and six million Muslims, already has the largest Muslim population in the European Union, and those numbers are expected to increase exponentially in coming years. According to conservative estimates, the Muslim population is projected to exceed 10% of the overall French population within the next decade-and-a-half.

During the campaign, Hollande offered an amnesty to all of the estimated 400,000 illegal Muslim immigrants currently in France. He also pledged to change French electoral laws so that Muslim residents without French citizenship would be allowed to vote in municipal elections as of 2014. These measures, if implemented, would enable the Socialist Party tighten its grip on political power, both at the regional and national levels.

Muslims in France -- and across Europe as a whole -- tend to support the Socialists for a variety of demographic, socio-economic and ideological reasons.
http://www.gatestoneinstitute.org/3064/muslim-voters-europe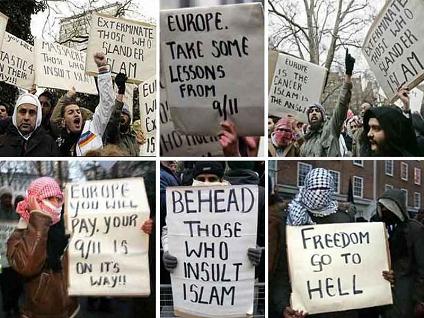 Islamic extremists are stepping up the creation of "no-go" areas in European cities that are off-limits to non-Muslims.

Many of the "no-go" zones function as microstates governed by Islamic Sharia law. Host-country authorities effectively have lost control in these areas and in many instances are unable to provide even basic public services such as police, fire fighting and ambulance services.

The "no-go" areas are the by-product of decades of multicultural policies that have encouraged Muslim immigrants to create parallel societies and remain segregated rather than become integrated into their European host nations.

In France, for example, large swaths of Muslim neighborhoods are now considered "no-go" zones by French police. At last count, there are 751 Sensitive Urban Zones(Zones Urbaines Sensibles, ZUS), as they are euphemistically called. A complete list of the ZUS can be found on a French government website, complete with satellite maps and precise street demarcations. An estimated 5 million Muslims live in the ZUS, parts of France over which the French state has lost control.

Muslim immigrants are taking control of other parts of France too. In Paris and other French cities with high Muslim populations, such as Lyons, Marseilles and Toulouse, thousands of Muslims are closing off streets and sidewalks (and by extension, are closing down local businesses and trapping non-Muslim residents in their homes and offices) to accommodate overflowing crowds for Friday prayers.

http://soerenkern.com/web/?p=739

Dutch Multiculturalism: Half of Young Moroccans are Criminals
http://soerenkern.com/web/?p=800

Forty percent of Moroccan immigrants in the Netherlands between the ages of 12 and 24 have been arrested, fined, charged or otherwise accused of committing a crime during the past five years, according to a new report commissioned by the Dutch Ministry of Interior.
In Dutch neighborhoods where the majority of residents are Moroccan immigrants, the youth crime rate reaches 50%

The Oslo Police have over the past three years investigated 41 cases of aggravated sexual assault, which resulted in rape. All of them were carried out by non-western immigrants to Norway.
http://www.norwaypost.no/news/immigrants-behind-most-cases-of-aggravated-sexual-assault.html


Swedish society is disintegrating and is in danger of collapsing, at least in certain areas and regions. The country that gave us Bergman, ABBA and Volvo could become known as the Bosnia of northern Europe. The "Swedish model" would no longer refer to a stable and peaceful state with an advanced economy, but to a Eurabian horror story of utopian multiculturalism, socialist mismanagement and runaway immigration....


In one of the rare instances where the Swedish media actually revealed the truth, the newspaper Aftonbladet reported several years ago that 9 out of 10 of the most criminal ethnic groups in Sweden came from Muslim countries. This must be borne in mind whilst reading the following newspaper article:

Immigrants are "waging war" against Swedes through robbery

http://www.brusselsjournal.com/node/938

Muslim 'Rape Wave' Reported in Oslo
Report: 45 of 48 rapes in Norway's capital recently were by Muslim immigrants.
Norway is suffering from an unprecedented wave of rapes that are largely being perpetrated by Muslim immigrants against local women, according to Yehuda Bello, an acclaimed Israeli blogger whosespecial interests include Norway.

Bello reports that from January to late October, 48 rapes were confirmed to have been carried out in Oslo alone, 45 of them by Muslims. In the first six months of 2011, 208 Norwegian women complained of rape and attempted rape in Oslo alone. In all of Norway, 929 rapes and attempted aggravated rapes were reported since the beginning of the year, he adds.

Bello notes that Norway is "the most advanced country in the world in granting rights to women." However, he adds, the "politically correct rot" prevents the rape wave by Muslims from being reported. "They are called 'non-western,' 'dark skinned,' 'Middle Eastern' et cetera."

http://www.israelnationalnews.com/News/News.aspx/150378#.T-0PGbWe59k

Labour wanted mass immigration to make UK more multicultural, says former adviser
Labour threw open Britain's borders to mass immigration to help socially engineer a "truly multicultural" country, a former Government adviser has revealed.
http://www.telegraph.co.uk/news/uknews/law-and-order/6418456/Labour-wanted-mass-immigration-to-make-UK-more-multicultural-says-former-adviser.html

Politicians Fret as Muslim Population Swells in Europe Amid Little Integration



Old Europe's population is dwindling even as immigration and high birth rates among Muslim groups are swelling in cities all over the continent.


And in Belgium, it is no different.


Although there are no official statistics on how many Muslims live in Brussels, it is believed they make up about 25 percent of the city's 1 million urban residents. Dewinter, who opposes immigration and has called Islamophobia a "duty," claims three of the 19 sections of Brussels, each with its own mayor, now have Muslim majorities.
"In those neighborhoods it's not our government that's in power," he said, "but the Muslim authorities — the mosques, the imams — who are in charge."
FOX News visited one of those neighborhoods, called Molenbeek, which looks more like North Africa than the heart of Europe.

http://www.foxnews.com/story/0,2933,510364,00.html#ixzz1z90lU8uB