ANNOUNCING...


Conference 3: Philadelphia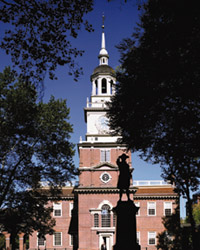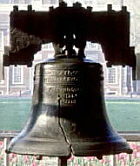 Join Sense of Life Objectivists from around the world in the City of Brotherly Love for a weekend of learning, sharing, eating, drinking and meeting others!

OCTOBER 3-5, 2003


Official Hotel:
Sheraton Society Hill
www.sheraton.com
One Dock Street (2nd and Walnut Streets)
Philadelphia, Pennsylvania 19106
United States
Fax (215) 238-6652
Contact: Carroll Lawson at 215.238.6626 or by email: carroll.lawson@sheraton.com

Note: There are several Sheraton Hotels in the Philadelphia area. Be sure to look for the Sheraton Society Hill.

Conference Rate: $119./night for either single or double occupancy. You must mention SOLO to get the discount. If you would like to share a room please e-mail Elizabeth at ekatalin@yahoo.com or Ashley at ash@splang.com and we will try to pair people up. You may also post at SOLOHQ or on the Yahoo forum on your own.
Secondary Hotel:
Chamounix Mansion (a hostel in Fairmont park)
www.philahostel.org
Price: $18/night

Note: Is several miles from the conference and will require transportation.


Prices:
Early Registration (by July 31, 2003): $90
Late Registration (by October 1, 2002): $105
Registration at Event: $120 for three days or $75 Sat only, $50 Sunday only
Student Price Early Registration: $50
Student Price after August 1, 2003: $75

Conference location:
Liberty Museum
http://www.libertymuseum.org/
321 Chestnut St.
Philadelphia, PA
Phone: 215-925-2800


Conference Times:
Friday, October 3, 5-8 P.M.
Saturday, October 4, 8-5 P.M. and 7 - 10 P.M.
Sunday, October 5, 8-12 P.M.


Agenda:
Friday, October 3, 2003
Philadelphia MOA Jazz Café

Jazz and Cocktails, 5pm-8:00, for those who arrive early and want to mingle and enjoy the city's cultural crowd www.philamuseum.org/events/friday/index.shtml


Saturday, October 4, 2003
Liberty Museum

Breakfast 8-9A.M.
Lindsay Perigo 9-10 A.M.
Michael Newberry 10-11 A.M.
Break for lunch and site seeing 11-2 P.M.
Ashley Frazier 2-3 P.M.
Joe Rowlands 3-4 P.M.
Glenn Lamont 4-5 P.M.
Dinner 7 - 10 P.M.


Sunday, October 5, 2003
Liberty Museum

Breakfast 8-9 A.M.
Short Topics 9-10 A.M.
Museum Lecture 10-11 A.M.
Museum Tour 11-12 P.M.

Conference fee includes all of the above except for Friday night's event and lunch on Saturday.


Have Something to Say?
There is an hour allotted for short speakers Sunday morning. SOLO will allow for four 10-min lectures followed by a few minutes of group discussion. If you are interested in speaking or leading a discussion, please submit an outline of your topic to Joe Rowlands at capitalistjoe@yahoo.com. Speakers will be selected by August 31, 2003.


Questions? Suggestions? Want to help out but not sure how? Contact:
Ashley Frazier at ash@splang.com
Elizabeth Kanabe at ekatalin@yahoo.com
Joe Rowlands at capitalistjoe@yahoo.com

Annoucement: Christy Little had to cancel due to a medical emergency.

More Details:

Bring your red wine and start traing for arm-wrestling, because Lindsay Perigo will be attending the SOLO conference in Philadelphia. To take advantage of this new opportunity, I've extended the deadline for early admission to the end of this week.

We have some exciting speakers.

Ashley Frazier is going to give a talk on love, and given her infamous anti-monogamy rhetoric, it's going to be an exciting one!

Michael Newberry is going to discuss the requirements of a complete, fulfilling life, and the role that art plays. Watch him integrate the physical, the intellectual, and the spiritual with a wave of his hands!

Glenn Lamont, the "likable" Benevolence Cop, is going to expand on his article Stylized Life.

He'll also share his vision for promoting this idea in the larger culture.

And Joseph Rowlands will talk about life as a progression and integration, a role that heroes can play in our lives, and recognizing your highest values. Tentatively titled "The Story of Your Life".

The "Young Guns" will give smaller presentations, but just as exciting and fun-filled. Jeff Landauer, master builder of websites, will talk about his strategies to use the internet for world domination (or spreading ideas). Elizabeth Kanabe will also have something interesting to say. And there might be more on the way. If you want to say a few words, write me and let me know.

And yes, Lindsay Perigo will talk. About what you ask? It is my pleasure to announce that he doesn't have a topic yet. That's right! Anything goes! He may talk about how to lose gracefully in an arm-wrestling match. He may talk about the virtues of punk rock and teetotalism. He may just stand before the audience, cursing and shrieking. Find out for yourselves!